With help from guest authors, experts, and community and business leaders, the Familius Helping Families Be Happy podcast explores topics and issues that connect families to the nine habits of a happy family: love, play, learn, work, talk, heal, read, eat, and laugh together.
Episodes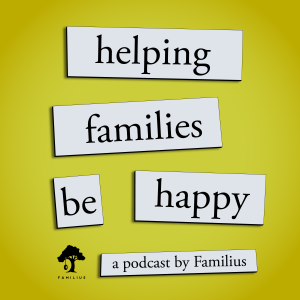 Wednesday Dec 21, 2022
Wednesday Dec 21, 2022
On today's episode of the "Helping Families Be Happy" podcast, host Dr. Carla Marie Manly, talks with Christine Babinec, who will be talking about her new book "Want a Hug? Consent and Boundaries for Kids". Christine shares her views on when a boundary crossing has occurred. She answers the questions: How do we help a child? How do we empower them to come forward without shame, embarrassment, and guilt no matter how minor or major that boundary crossing is?
Episode Highlights
1.20: Christine's practice is about combining prevention work and treatment within a social justice scope, and she is trying to figure out how can we prevent abuse and harm from happening in the world. How can we effectively treat it and make sure that we are bringing marginalized people and hearing the voices of the people who have been hurt?

4.55: As adults, sometimes we see a child and know the child needs an answer and sometimes the answer or explanation becomes very cerebral and wordy. But the children's books can be so perfect in giving us the simple, concise language that children can understand and process, says Carla. 

9.57: When you see your child not want to be hugged just have a lighthearted general conversation to get a beat and a read on what your kid is comfortable with in general because a lot of times we assume kids are soft and cuddly, but some of them just aren't and they don't like to have that foisted on them.

11.13: We often don't talk to kids about how you can show kindness and love and generosity and affection without physical contact, says Christine.

12.21: Carla believes in talking to the relatives in advance saying. She is working on boundaries at home. So, if the little one is showing signs of having strong boundaries, please applaud them and respect that they're learning how to take that with them through life.

14.49: Christine also encourages grown-ups to not apologize when their child doesn't want to give a hug or cuddle because this may communicate to the child that they might have done something wrong, or it gives them a mixed message.

17.28: One of the things that Christine have made addressed in the book is that a lot of kids are very afraid that they are going to get in trouble because that's what perpetrators do when they convince the child that they have done something wrong.

19.40: Sometimes it's later that you realize, that happened and that shouldn't have happened or didn't feel right and then children and adults tend to feel guilty for not having stopped it right then and there, says Carla. 

21.14: There could be a power differential even between a much larger child and a much smaller child in the same grade, Christine.

23.20: In slippery slopes, there is not a clear demarcation of when the hug turned into something that was much more inappropriate. Christine shares her views on how she would coach parents to help themselves or maybe forgive themselves and help them explain to their child.

24.40: We want to live in a world where we teach our kids that they are grown-ups and that they can trust, and that the world is a safe place. But then we also have to talk to them about certain realities.

27.34: Your instinct could be crystal clear on a lot of different things. But when you have complex emotions and complex relationships involved, this is where Christine worries that people will blame themselves that she should have had an instinct.

28.56: If your instinct comes up, pay attention to it and notice it. If you override your instinct or didn't get an instinct on and something happens, never blame yourself.

30.27: Christine's book is to set the foundation for healthy boundaries, learning about consent in naturalistic, developmentally appropriate ways that are fun and engaging and stuff that child is already doing now.
3 Key Points
When we have conversations with kids and the material is approachable everything changes. It sets the foundation to have more complicated conversations later, and it opens the developmentally appropriate ways for them, says Christine.

We want to empower kids to say no, but we have to remember kids are not responsible for protecting themselves, says Christine.

Silence is not consent. Persuasion is not consent. Consent is only present when it's freely given, reversible, informed, enthusiastic and specific, says Christine.
Tweetable Quotes
"We do all great work to set the foundation for consent and boundaries, and then we don't explicitly talk about it in terms of bodies and relationships." – Christine

"The developmentally appropriate way is so critical because if we are either speaking beneath the child's level or over a child's level, we're missing an opportunity for attunement." - Carla

"Consent and boundaries are the foundations of all healthy relationships is my favorite line. But upon reflection, my favorite line from the book is, it's not my fault." – Christine

"70s and 80s were all about stranger danger because we don't like to think about the fact that often when abuse happens, it's from someone we know." – Christine
Resources Mentioned
Helping Families be Happy Podcast 

Apple