With help from guest authors, experts, and community and business leaders, the Familius Helping Families Be Happy podcast explores topics and issues that connect families to the nine habits of a happy family: love, play, learn, work, talk, heal, read, eat, and laugh together.
Episodes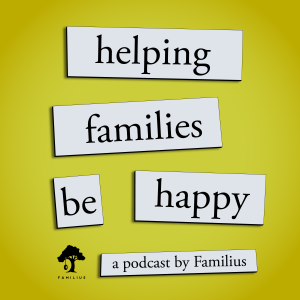 Wednesday Feb 02, 2022
Wednesday Feb 02, 2022
In today's episode of "Helping Families Be Happy" podcast, host Dr. Carla Marie Manly, a practicing Clinical Psychologist, Wellness Advocate, and Author based in Sonoma County, California talks with John Schlimm, a writer, an artist, an advocate, and an educator speaks about his upcoming book 'The Star Jumped over the Moon'. This book tells readers about how they are the star that jumped over the moon. John tells listeners the purpose of life. It's figuring out what it is that makes us different and unique. 
Episode Highlights
01:58 – John shares, several years back a publicist once had asked him for PR materials to summarize who he is in one sentence, which is a challenge for anyone.

03:26 – Dr. Carla enquires, where does the star jump over the moon come from?

04:02 - John mentions, it's that apple tree that was very much rooted upon an old field of green that inspired this story.

06:24 – John worked very hard to make sure that the story of 'The Star Jumped over the Moon' is timeless.

08:40 – John has recently fallen in love with the genre of a zine. They're a collection of writings, artwork, and activities that different groups would put together very simply on a photocopier.

10:23 – The guest loves to create as many different entry points as he can for the participants to come in.

14:30 – The cover of the activity zine to 'The Star Jumped over the Moon' when people download it, they will see that it's created by 'John Schlimm' and there's a blank line where he wants his collaborators to write their names.

16:00 – John sees kids today as the imagination generation because he believes that kids today have more tools and pathways for exploring and cultivating than any generation before.

18:11 – Imagination is one constant gift that from the beginning of time that has consistently allowed human beings to leap over any challenges, states John.

20:00 – The greatest gift that Gen Z has already given to the world is within the realm of mental health. 

22:21 – You're talking about the imagination, that if there is a way forward, it will be through the imagination and the heart, says Dr. Carla.

24:02 – John states, he has encouraged older adults to just sit down and have a conversation with these young people (Gen Z).

27:04 – We hope we look at each other with acceptance, and a sense of uplifting, supporting, and moving forward focusing on our similarities rather than on any negative differences.

28:00 – The greatest villain right now in the story of the imagination generation is mental health, mentions John.

30:38 - Not only let the kids have fun but have fun alongside them because we adults in so many ways have forgotten how to have fun, says the guest.

34:41 – Dr. Carla points out that those themes are no charge, you can go download, play, laugh, and explore to your heart's content.
Three Key Points
The main message that John hopes all readers will walk away with at the end is that they are the 'Star That Jumped over the Moon'; he wants each reader to come to this book and find themselves in the story of this star. This star who on a chilly morning, woke up in a nest on a branch inside that old apple tree, didn't know how he got there, didn't know where he came from and didn't understand what his purpose was. 

John wants especially those young people to walk away, embracing their imagination, their creativity, their dreams, and figuring out what it is that makes them different and unique because each of us is unique in our ways.

No matter where or how we were born in this world, our imagination is something that is constant and can take us anywhere we want to go. John hopes that with this book and with the activity zine he also created the imagination generation activities that seem to be a companion to that concept. 
Tweetable Quotes
"A dear friend of mine once told me, every story has its time to be told." – John Schlimm

"It was important for me, especially as an educator to create a series of resources that could be downloaded for free by parents, teachers, and librarians or by anyone who works or lives with children….." - John Schlimm

"This is a story that I think whether it's children who are reading it, or having it read to them, or the adults who are doing the reading, everyone's going to walk away finding a piece of themselves in this star." – John Schlimm

"I created a companion activities theme that takes the reader through different activities to help them connect and understand how they are that star that jumped over the moon." – John Schlimm

"I love that you're providing resources so that a book like this can take somebody into a deeper space." - Dr. Carla Marie Manly

"I wanted the zine to have that wonderful old school feeling." – John Schlimm

"It's okay to show those flaws and to be vulnerable.' – John Schlimm

"You might even see a smudge of a fingerprint in there, as it gets kind of messy when you're working with markers and all of that." – John Schlimm

"The energy that I get from your work is there's a lot of love, play, learning, working together, talking, and healing all of those beautiful elements that allow us to grow as human beings." - Dr. Carla Marie Manly

"That is such a true educator and artist in you and collaborator, you allow someone to co-author with you, so beautiful.' - Dr. Carla Marie Manly

"The imagination is so critical for the success of our species, right?" - Dr. Carla Marie Manly

"I'm a huge number one fan of Gen Z and have spent the last several years in the classroom with them." – John Schlimm

"One of the greatest gifts that they have given to the world is they were the first generation to not see black or white." – John Schlimm

"Every generation has given gifts, but I do believe that the imagination is the one that kids today are going to be able to give to the world in a way that is just going to blow our minds." – John Schlimm

"I'm so grateful to Gen Z that they are helping to clear a pathway for the imagination generation kids today." – John Schlimm

"When we have good mental health, strong mental health, we inherently have a more balanced life." - Dr. Carla Marie Manly

"One of the things I love to do most to have fun is climbing trees.' – John Schlimm

'Your differences don't make you bad, they're nothing to hide.' - Dr. Carla Marie Manly

"You are the star who jumped over the moon.' - Dr. Carla Marie Manly
Resources Mentioned