With help from guest authors, experts, and community and business leaders, the Familius Helping Families Be Happy podcast explores topics and issues that connect families to the nine habits of a happy family: love, play, learn, work, talk, heal, read, eat, and laugh together.
Episodes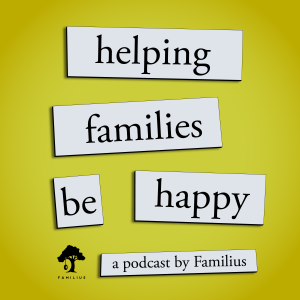 Tuesday Nov 22, 2022
Tuesday Nov 22, 2022
In today's episode of the "Helping Families Be Happy" podcast, host Christopher Robbins, co-founder of Familius publishing, husband, father of nine, author, fisherman, backpacker, and aspirational musician based in the Central Valley of California, talks Brianne DeRosa, MFA, is the Content Manager for The Family Dinner Project. As a freelance writer and consultant to nonprofit organizations, she has spent over a decade working in communications, program development and creative initiatives. Brianne has the opportunity to practice her family dinner skills every day with her husband and two young sons. Today they are going to explore how to improve family dinner and why that is so important in today's busy world.
Episode Highlights
1.02: Brianne talks about changes in family dinners pre and post covid. As per her, pre covid, majority of families, majority of parents would say particularly that family dinner was important, that they wanted to have family dinner and 80% of teenagers would say that they wished they could eat dinner with their parents more often.

03.13: During pre-covid fewer than 30% of families were making it to the table together on any kind of regular basis, which was concerning.

03.56: During Covid, what Brianne found was kind of interesting; they did some research with their friends at making caring common, which is part of the graduate Harvard Graduate School of Education and what the research uncovered was that during the first year of the pandemic, when there were a lot of lockdowns and people were home more family dinner is improved, so more than 50% of respondents said not only were they having dinner much more frequently, but their dinners were more enjoyable.

04.30: During Covid, kids were feeling more empowered to cook and be a part of the family dinner experience, and that made everybody feel good.

06.52: The family dinner project is a nonprofit program of mass General Hospital psychiatry Academy and as per Brianne it is based on the principle of looking at the decades and decades and decades of deep scientific research that has proven that family dinner is an important part of life, an important available daily intervention. 

07.54: As per Brianne young kids in particular who eat with their families develop storytelling, sequencing and vocabulary skills even greater than if they were simply read to.

08.33: There are a whole host of benefits for adults that are now coming to light through new research where older adults who eat with someone else, whether that is a family member or a friend, if they have regular shared meal interactions with people, they have better mental health. Their loneliness decreases, which is a huge public health crisis for older, older adults is loneliness that decreases, their nutrition increases.
09.23: Brianne shares how does the family dinner project, help people inculcate family dinner into their lifestyle? 
11.12: Bri shares how they are working with experts at mass general to create a whole youth sports and family dinner section of their website specifically targeted to those challenges. They also have a new initiative called the Welcoming Table that they have been working on with a variety of experts that specifically targeted towards the challenges that come with having family members who are on the autism spectrum or have ADHD or have feeding challenges, sensory challenges, if those are barriers to any family meals, they are also targeting towards that. 

14.30: In many households, if not most, there is one person who is basically responsible for the planning, shopping, cooking and cleanup. A lot of time it's a female head of household, kind of singular person who has the whole mantle of responsibility. And one of the things that makes family dinner feel so scary and onerous is there isn't that division of labor, that opportunity to cook together, that opportunity to have people help clean up or even just to help meal plan and shop. 

18.19: The Family Dinner Project's goal is if you could help a family overcome their family dinner challenges, if you could inspire a family to have more dinners together, they wanted that thing that you could hand to them and say look here is how you do it.

21.11: Sometimes parents are able to get together with their kids for a few minutes between school and sports practice. If you take that moment to have some apple slices and cheese and talk, then you have done a family meal, says Brianne.

23.10: Anytime that you are sharing food, fun, and conversation in any format with anybody who's important to you, that can confer some of the same benefits as what we think of as this kind of Norman Rockwell dinner experience, says Brianne.

25.40: As per Brianne one of the most undervalued things about family dinner is that opportunity that it presents for people to just unwind and laugh together and have a good time. 
3 Key Points
Brianne explains what is the family dinner project and why is this so meaningful and so important? 

Brianne talks about the family dinner book that they have introduced. As per her there are all these different challenges in the book that that they are trying to help solve through presenting the stories of real families who have managed it. What has their challenge been? How have they overcome it? They have smart strategies. Real people have really good ideas. 

As per Brianna its ok to have a split shift dinner as long as everyone has someone to eat and interact with, that's a family meal. 
Tweetable Quotes
"Having somebody else in the house will help you with dinner might actually make you feel better about dinner." -  Brianne

"Family dinner is a relatively accessible intervention for most people, it's something that they could potentially do. But it's not simple and so the family dinner project, we always say that the research exists to tell us why dinner is important, but we exist to help you with the how." - Brianne

"I would say to that family and to every other family out there, one thing to remember is we're the family dinner project. But it doesn't have to be dinner, it's any opportunity where you can connect meaningfully and purposefully around food, fun and conversation so it can be a family breakfast." - Brianne
Resources Mentioned
Helping Families be Happy Podcast 

Apple

https://thefamilydinnerproject.org/|Instagram|